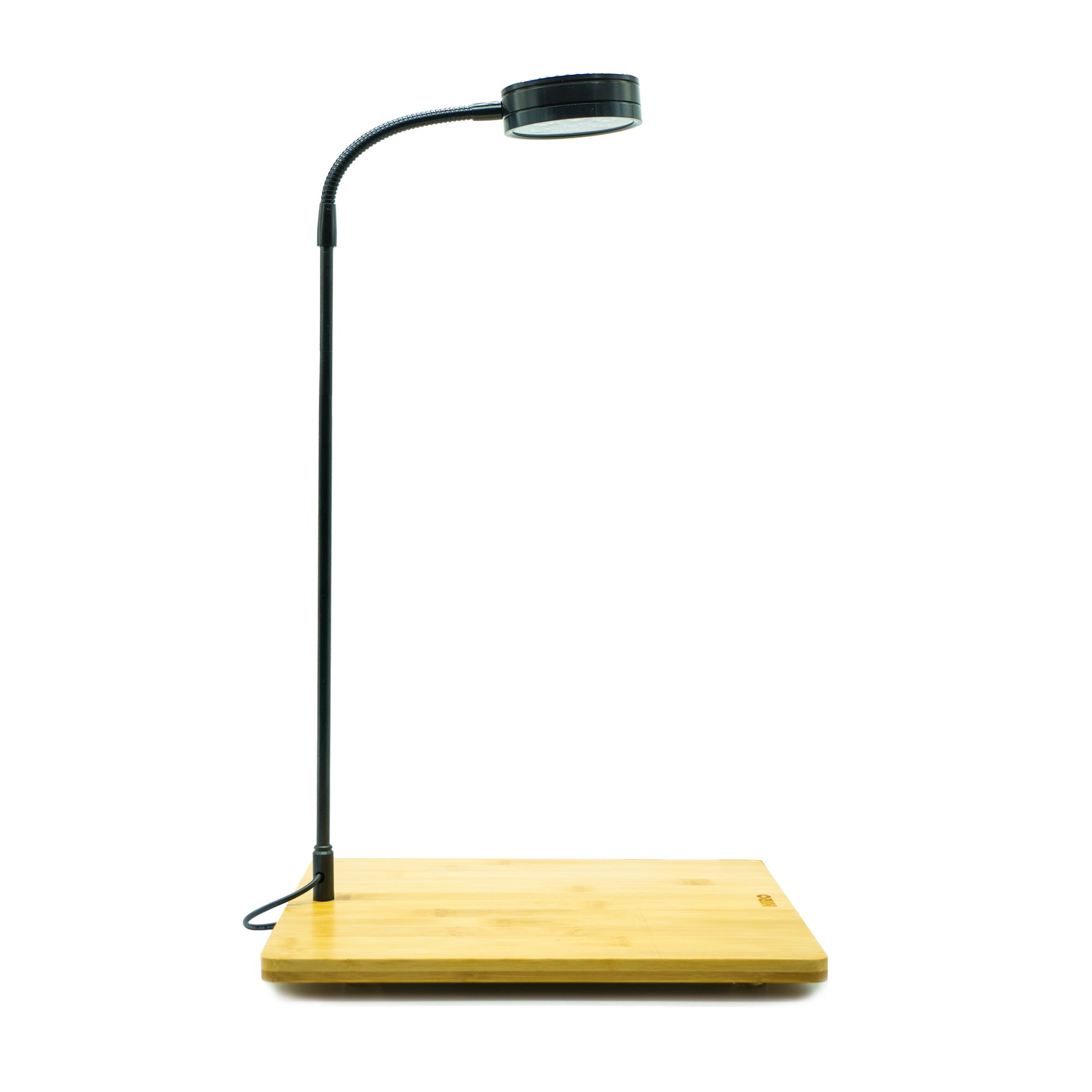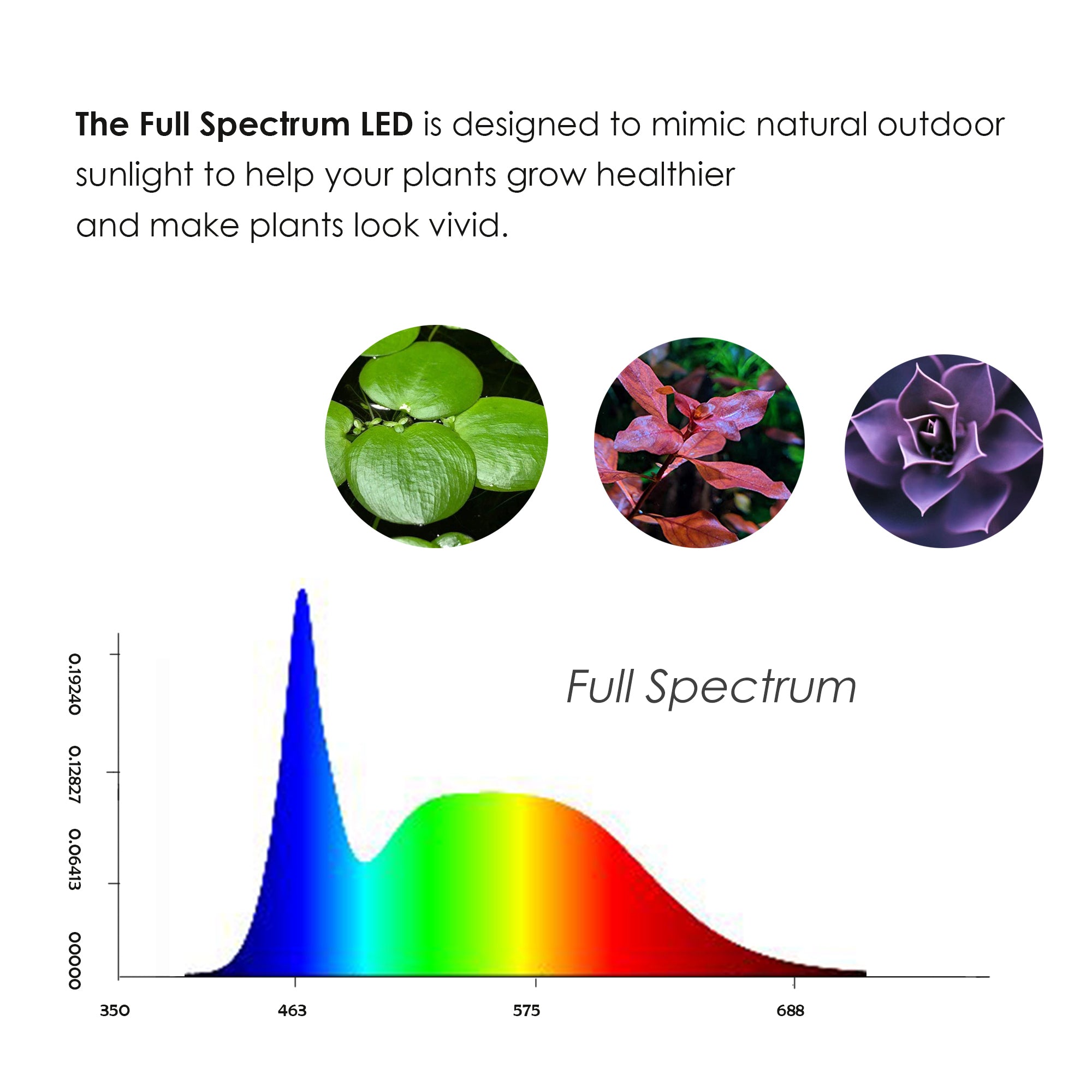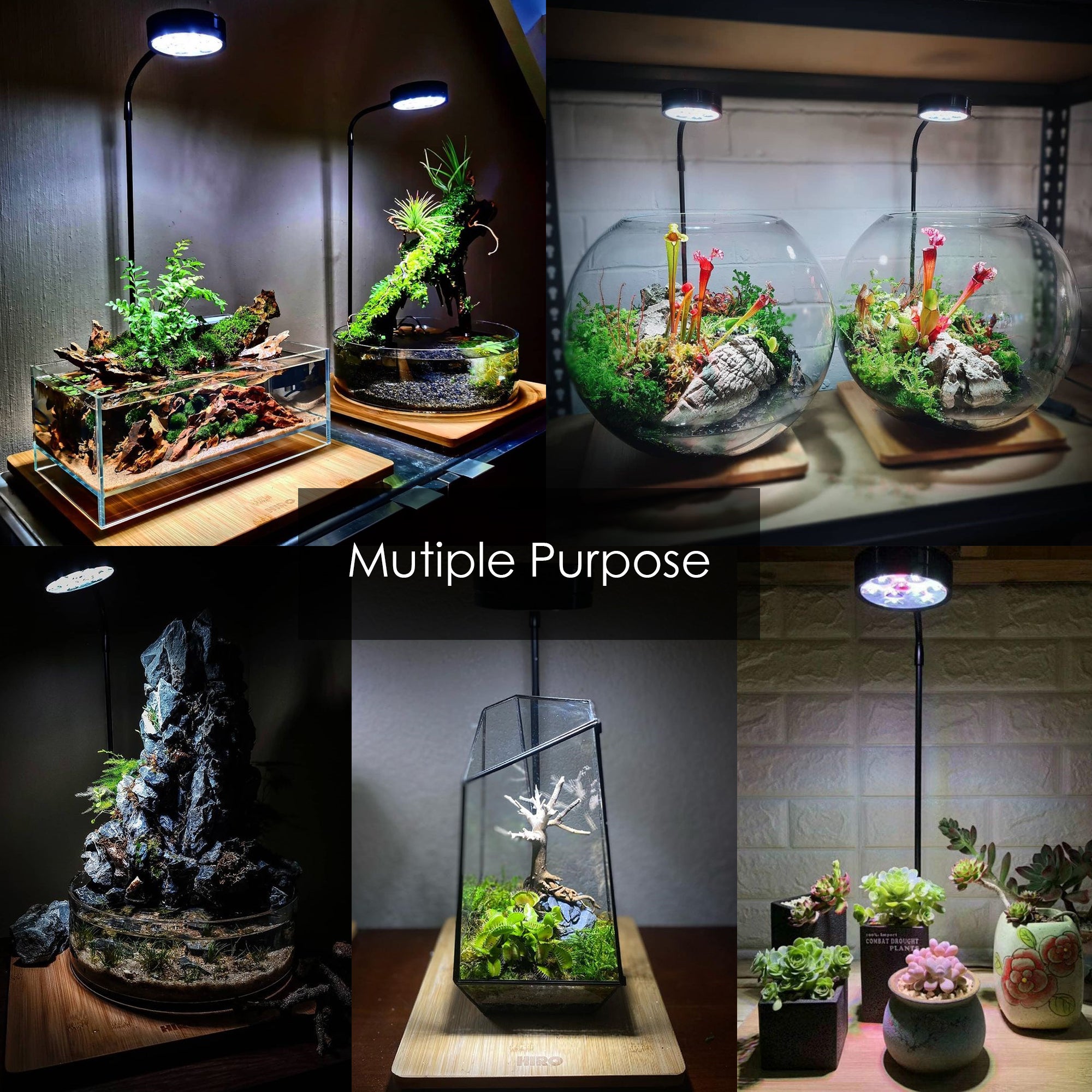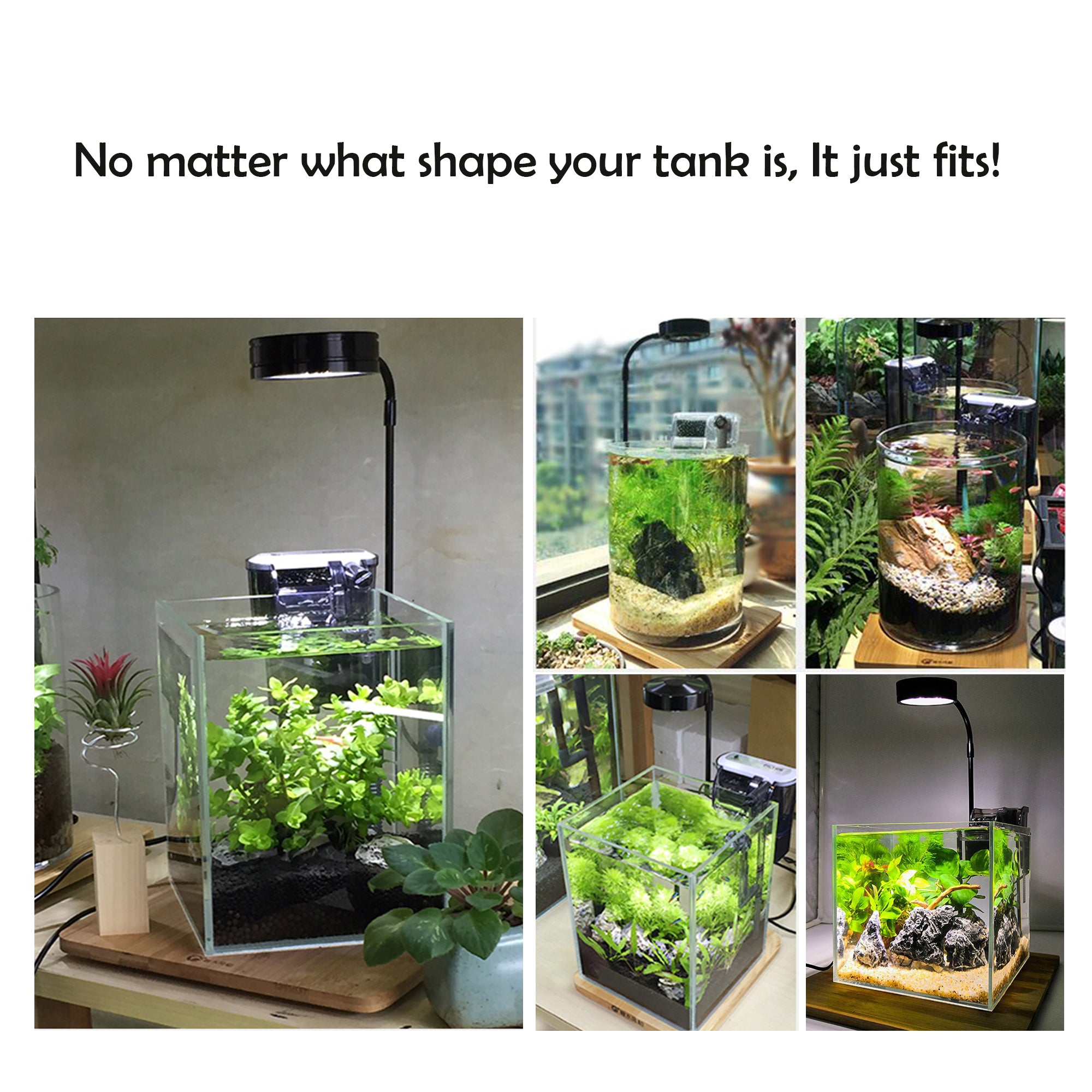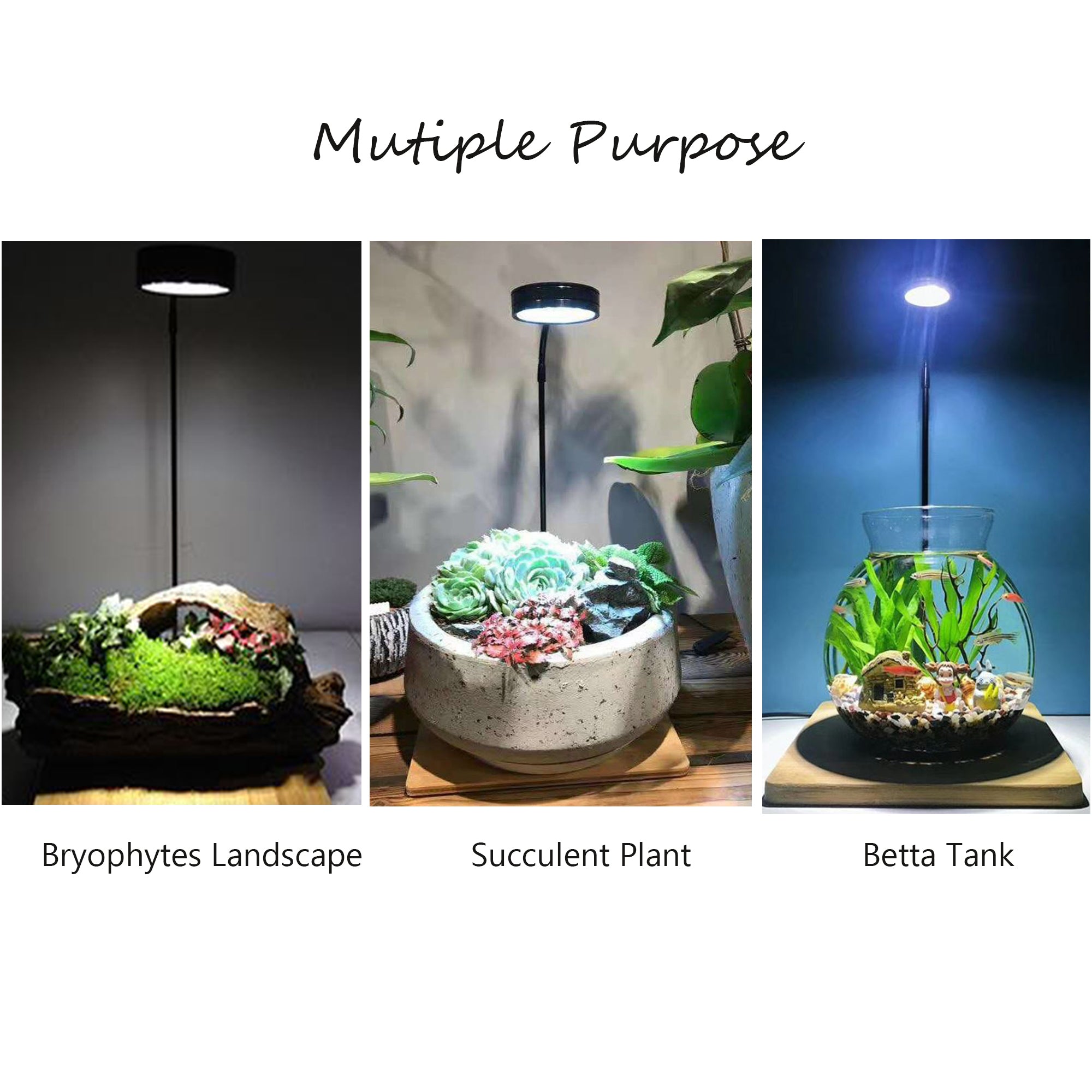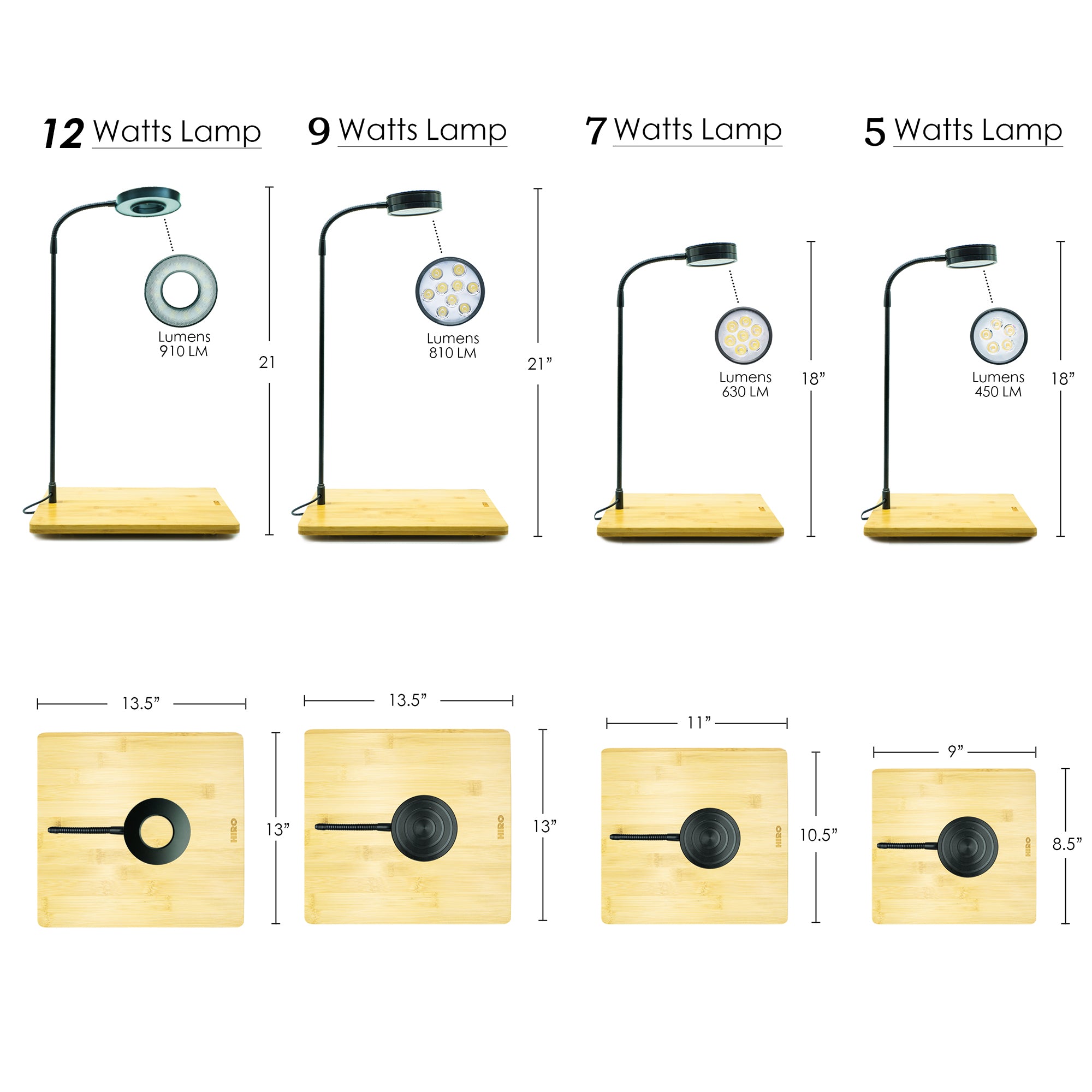 Full Spectrum LED Light, fits Aquarium Nano Tank, Wabi Kusa, Potted Plants, Terrariums & Paludariums
Out of stock
Free Domestic Shipping included

[Multiple Purpose] This lamp is ideal to illuminate a nano aquarium, fish tanks, indoor potted plants, succulent terrariums, Wabi Kusa, an aquatic terrarium, an underwater terrarium, a miniature or a bonsai terrarium. No matter what shape your tank or pot is, just simply put it on the bamboo board and your tank/plant is illuminated.
[Full Spectrum] This is an aquarium light for plants. The full Spectrum LED is designed to mimic natural outdoor sunlight to help your plants grow healthier and make plants look vivid. The lamp consistently emits wavelengths in the wide range, including those wavelengths visible to the human eye (what we perceive as color) and the invisible wavelengths, like ultraviolet and infrared. As a result, it will allow plants to grow healthily, as naturally grown in the sun. Also its CRI(RA) is above 80, better than normal LED Light
[Bamboo Board] It features hard texture, water-proof, strong temperature insulation, no deformation and anti-insect.
[360 Degree Swivel] This aquarium led light's lamp head is 360 Degree adjustable to meet your need. Each lamp bead is equipped with a lens that designs to effectively increase the width and depth of the illumination without causing waste of light.
[100-240V] US two pin Plug. Color temperature of this lamp is 6000K.
SPEC SHEET


5W - 450 Lumens
Bamboo board size : 9 in X 8.5 in X 0.5 in
LED Light Maximum Height : 18 in
7W - 630 Lumens
Bamboo board size: 11 in X 10.5 in X 0.5 in
LED Light Maximum Height : 18 in
9W - 810 Lumens
Bamboo board size: 13.5 in X 13 in X 0.5 in
LED Light Maximum Height : 21 in
12W - 910 Lumens

Bamboo board size: 13.5 in X 13 in X 0.5 in

LED Light Maximum Height : 21 in
If you are an aquarium enthusiast or a person who likes to have a miniature landscape such as a potted plant, betta fish tank ,then you will love this led grow light. The design of this lamp is very simple. The high quality bamboo board at the bottom can perfectly support your work. The bamboo material features hard texture, strong temperature insulation, no deformation and anti-insect. A full spectrum LED light is on the top with three different wattage for your choice. (5W/7W/9W) With 6000K color temperature, its spectrum is almost the same as the daylight, which is essential to the plants' health. It is also equipped with a switch for easy operation. In addition to the beautiful effect, this lamp can be an ideal desk lamp, you can carry out your creation on the bamboo board, such as painting, crafts production, etc., the LED light on the top will offer you a very clear lighting.
Product Gallery
What Our Customers Create w/ This Light
Why It is Different
High Penetration Spotlight
Equipped with a condensing lens on each single LED bead, it can let light beams to be more focused on plants or tanks, not only delivering strong light energy to them, but also bringing vivid visual scenes to human eyes
Full Spectrum LED
This full spectrum NANO Led can mimic the natural wavelengths of sunlight enough that plants are stimulated to grow. With a CRI of 80, it also helps enhance the true color of the fishes, plants and others.
360 Degree Swivel Lamp
The top lamp can be adjusted 360 degrees to meet all your needs. Simply adjust the goose to your desired angle and that's it.
Customer's Voice
What they are saying about this Light
I have two of these now and they're excellent lights for plants. I grow wabi-kusa with mine, which consist of a substrate ball covered with mosses and other small plants in a high humidity environment. My plants continue to thrive under these lights, so I highly recommend them, especially for the cost.
Purchased the 9W for a 30cm cube tank. Fits perfectly on the board. Nice slightly warm color temperature. I especially like that it can be angled to create a beam of light.
I love it! I swear this 2 gallon tank was made for it! Perfect fit, looks fantastic, exactly what I was going for. It's full spectrum and provides 2.5 watts per gallon, which will hopefully be just what I need for my newly set up walstad style set up.
Best light around for my nano bowls!! Plants love it and so do I!!! I have one on every bowl!
New Goods Come Every Month!
Subscribe to our newsletter and be the first to receive the latest product information and deals!