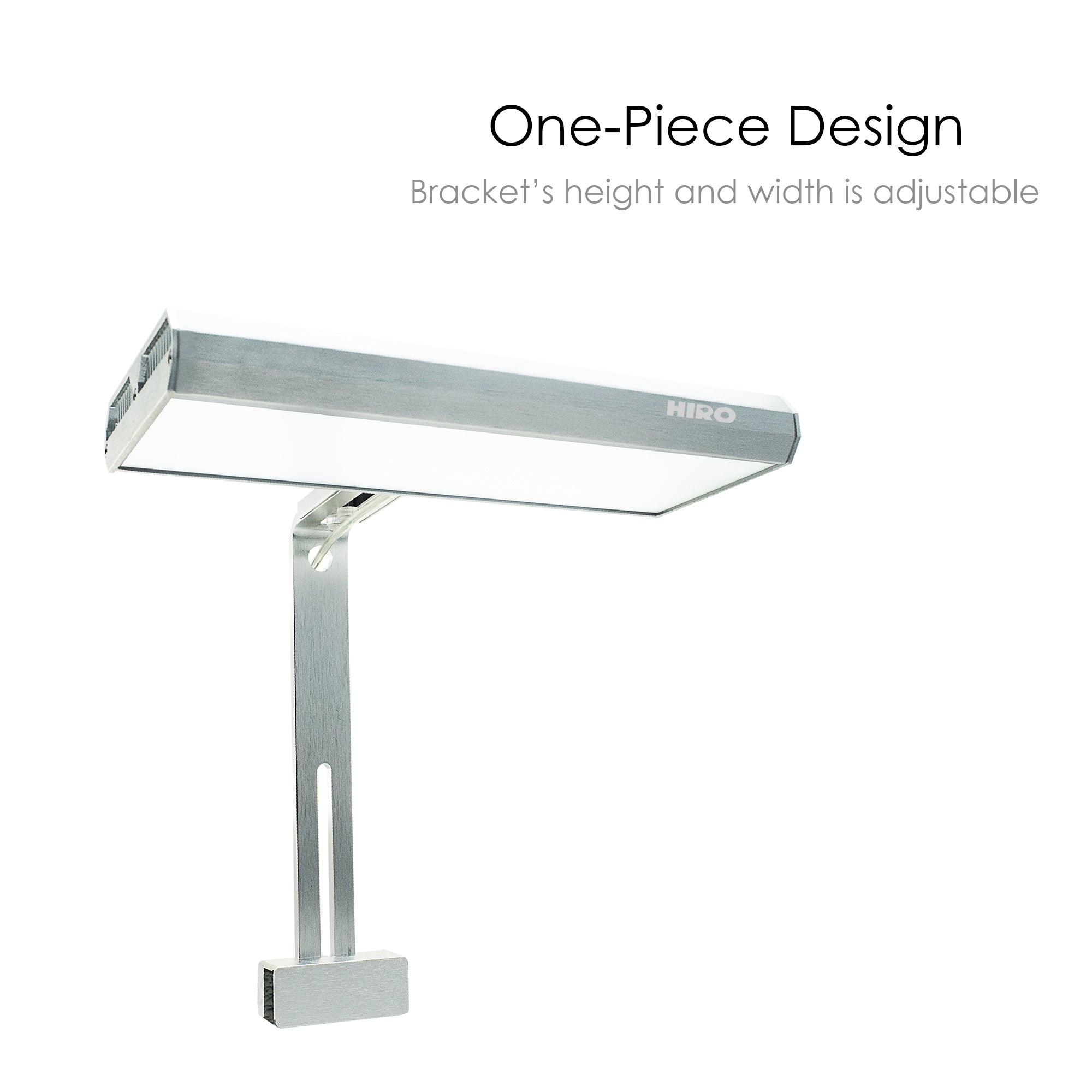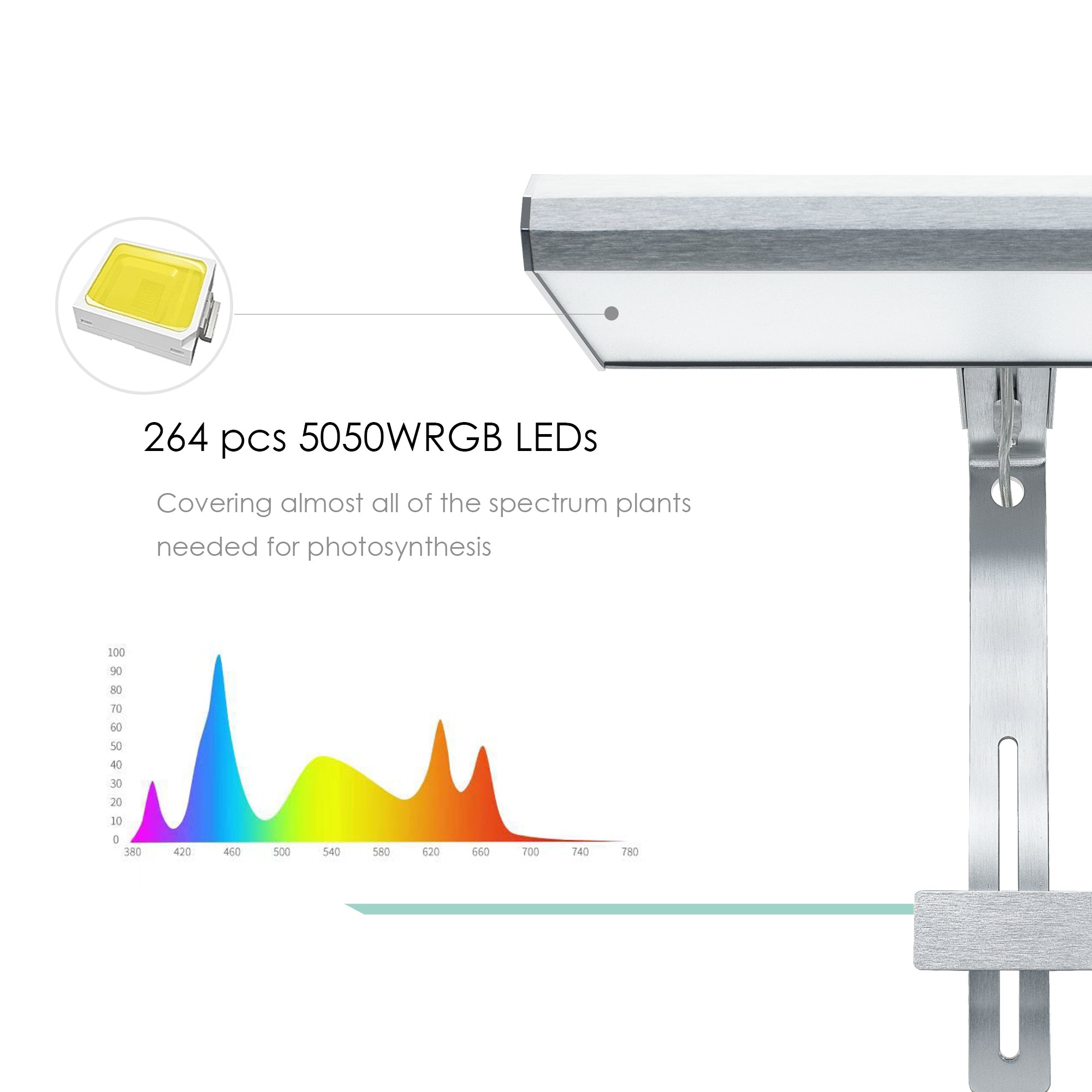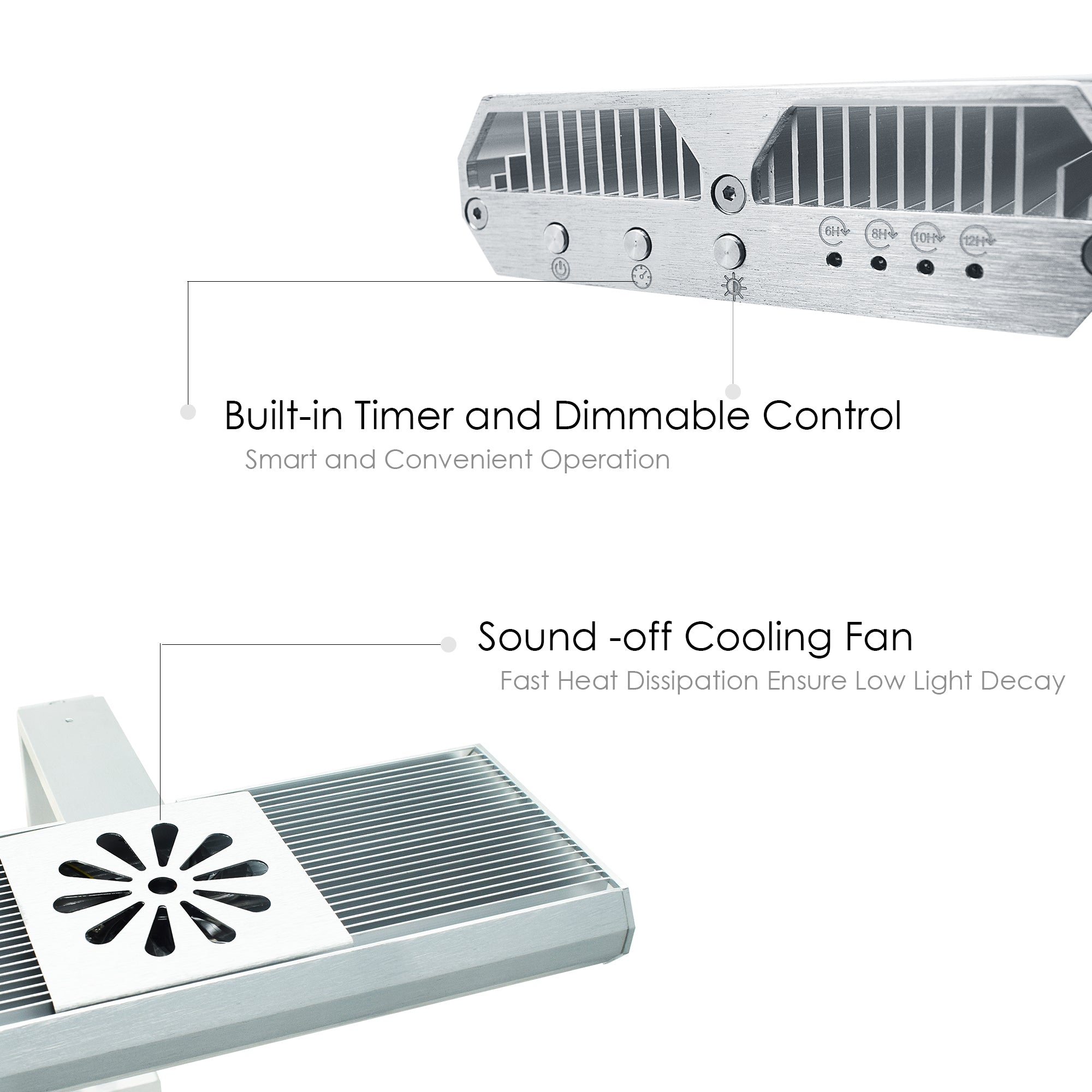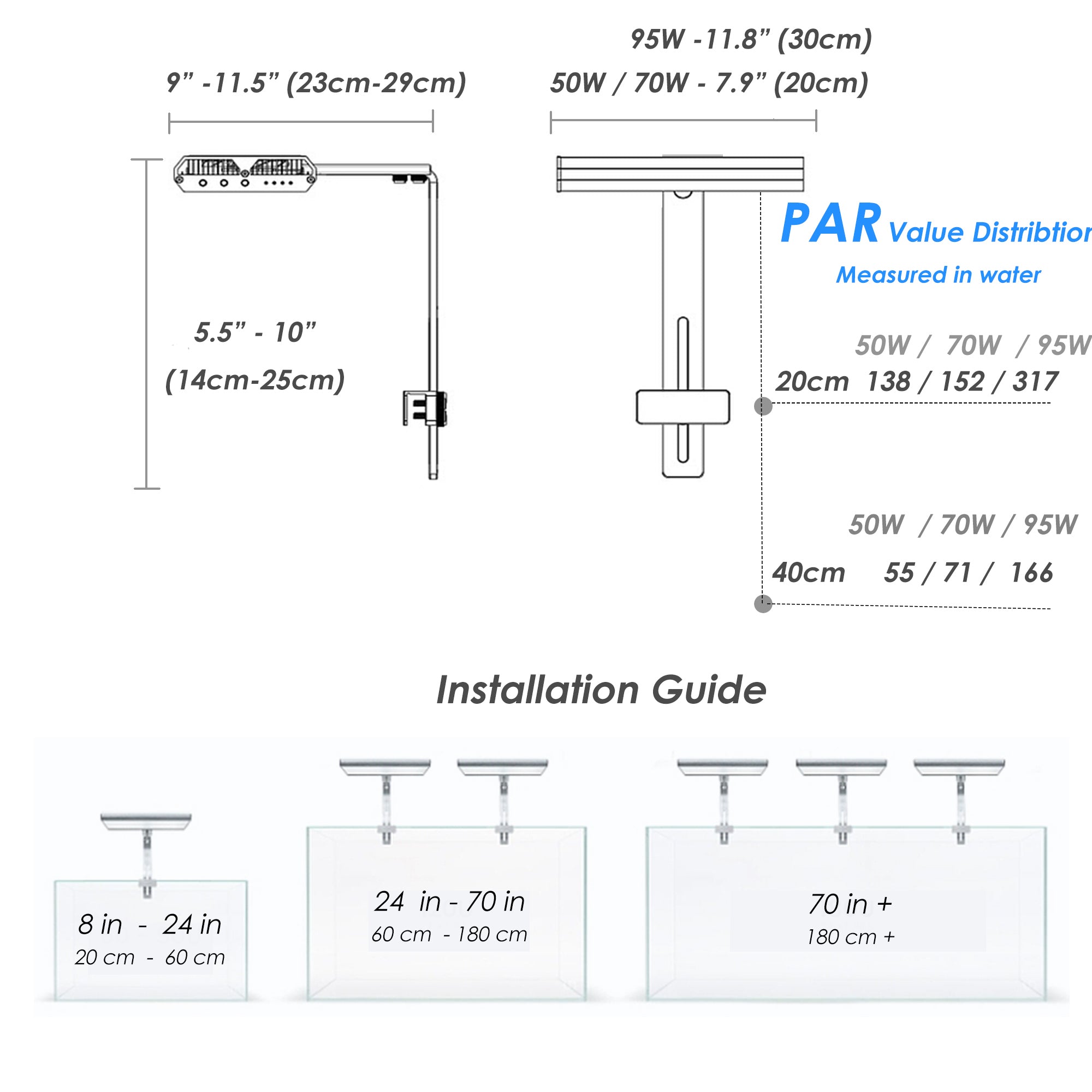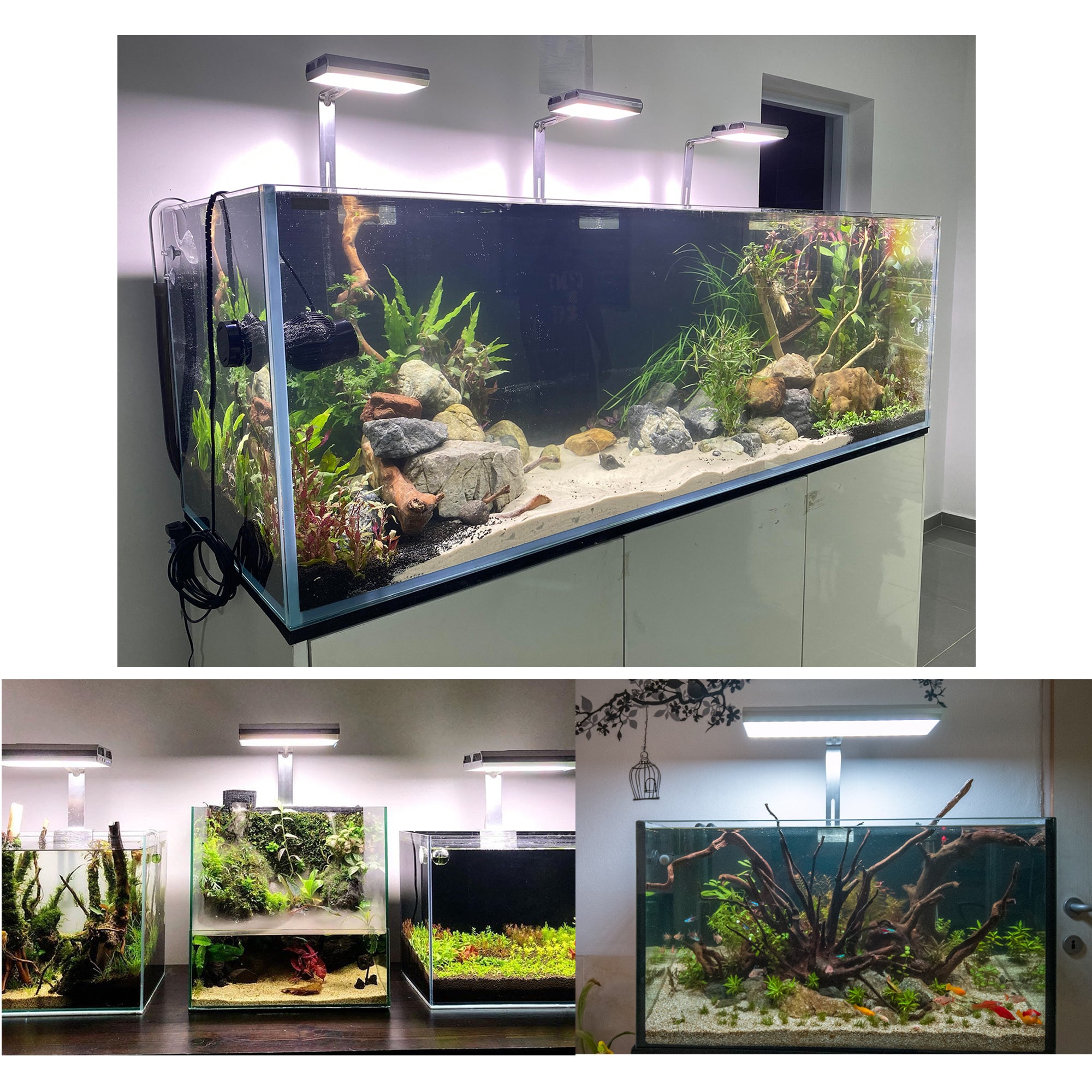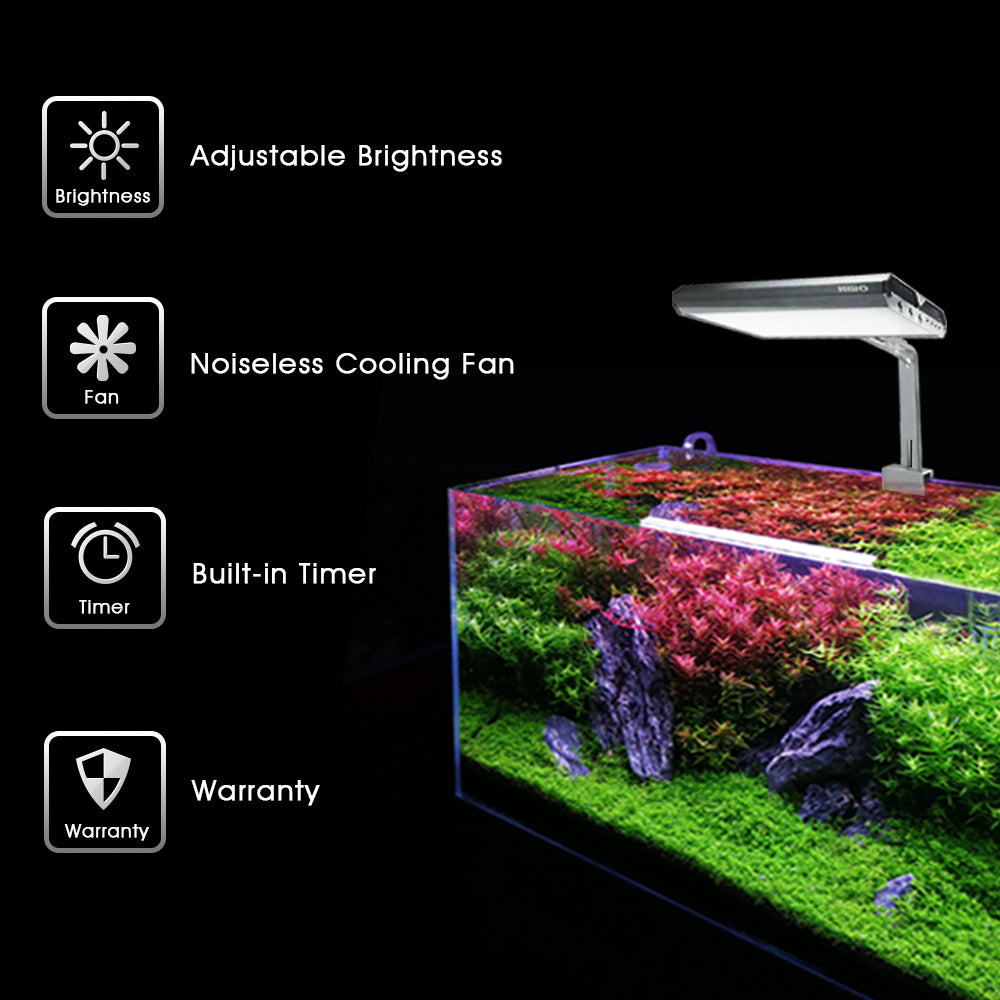 Make Your Plants Pearling in your Aquarium
S series WRGB Full Spectrum Planted Aquarium Light with Built-in Timer and Dimmable Control
Out of stock
Free US Standard Shipping
PRODUCT DESCRIPTION
HIRO Aquatics S series Full Spectrum Aquarium WRGB Light features a square light plate with soft board included, a built-in cooling fan and a built-in timer.

WRGB provides four kinds of light- white light, red light, green light and blue light, covering almost all the spectrum plants needed for photosynthesis, not only improving the efficiency of plants' absorption of light energy but also helping coloration of plants. 
Also, strong light is a must if you want to raise any carpeting plants, red plants and any other high tech plants.

As you may know that light decay happens when light travels in a medium like glass or water and the light decay is very fast in the case of poor heat dissipation. Conversely, when the heat dissipation is good, the light decay is slower than that of fluorescent lamps. Equipped with a built-in sound-off cooling fan, the HIRO S Series light can help release heat very quickly and minimize light decay, ensuring maximum light energy can be transmitted to plants.

The built-in timer makes it easier to control the lighting time. There are 4 options available, 6 hours, 8 hours, 10 hours, 12 hours. With just one touch, this light remembers the time it needs to start working every day and automatically turns on and off every 24 hours.
It fits 24 inch, 30 inch, 36 inch, 48 inch, 60 inch, 72 inch aquariums with tank capacity from 10 gallon, 20 gallon to 55 gallon or 120 gallon.
The bigger your tank is, the more lights you need. Please refer to the supporting image about the quantity you need.
PRODUCT FEATURES
*Consists of premium aluminum alloy bracket and WRGB Full Spectrum LED light plate. A fan is installed on the top for efficient heat dissipation.
* Please note: This light only suit for RIMLESS tank, tank glass should be thinner than 16mm(0.6inch). If your tank has a black trim, you may need to remove the trim first to ensure a safe installation. If you rimless tank glass is thicker than 16mm, please contact us before you buy and we will replace a bigger clip into your package for you.
* Brightness can be adjusted by the dimmable-control button. Built-in timer can be set four different timing durations-  6hr/8hr/10hr/12hr.
* Full Spectrum WRGB =White+Red+Green+Blue technology provides the correct light and color for your plants to grow health and look vivid.
* It is a must if you have any carpeting plants, red plants and any other high tech plants in your tank. Unlike other low wattage LED aquarium lights, these three high-wattage (50W/70W/90W) lights ensure sufficient light energy to be delivered your plants and promote their daily photosynthesis and color pigmentation.
* 100-240V, US standard plug.
* 50W-Luminous Flux: 2500-3000 Lumens. Color Temperature- 7250K
* 70W-Luminous Flux: 3500-4000 Lumens. Color Temperature- 7250K
* 95W-Luminous Flux: 5500-6000 Lumens. Color Temperature- 9000-12000K
Product Gallery
What Our Customers Create w/ This Light
Premium Satin Aluminum Alloy
Light weight and corrosion resistance. Strong and Long-Lasting.

Designed for rimless tank with a glass thickness between 5mm to 16mm. For thicker glass,.
Built-in Cooling Fan
Equipped with an extra-quiet built-in cooling fan, it can efficiently dissipate heat, ensuring a low light decay and a long life-span.

The fan is automatically turned on when the light is on.

Timer and Dimmable Control
Simply set the brightness by pressing the buttons.
Built- in Timer- Four timing options for your choice- 6/8/10/12 hours.
WRGB Full Spectrum
It is designed to mimic natural outdoor sunlight to help your plants grow healthier and make plants look vivid.
It consistently emits wavelengths in a wide range, allowing plants to grow healthily, as naturally grown in the sun.
Customer's Voice
What they are saying about this Light
The tank on the left has the Hiro light. A few days after putting it on my fish tank I began seeing noticeable change in vibrancy of my plants. My greens got greener and my reds got redder. Great light, I wish Hiro came out with a more conventional light that I could use on a rimmed acrylic tank.
Mary Beth Annas
/
CUSTOMER
These are great lights. I had them on a 150g and the easily reach the bottom and help my plants go through the full photosynthetic cycle. I now have them on my 40g breeder and the plants are growing like crazy. Very cool ability to dim the lights and built in timer. Overall really good looking light and great par variance. Worth every penny. Using 2 on 40g is overkill but I just use a short light cycle.
Mother of light! Its freaking beautiful! You can adjust tje light by 25% up to 100 at 75% my plants start pearling! You can also set the tome for 6hrs 8hrs and 24hrs. The light cover is made of aluminum and I cant hear anything on the fan. My tank is 10 gallon and the size is perfect for this one. I used fluval nano led light and the fluval is not enough for my tank.
Best light for the buck. There were not really many choices for hob arm lighting fixtures for planted tanks: AI and Maxpect are more for reef tanks and overpriced for the planted tank. Hiro's seem the right choice plus it seems to be a combination of flat light and pendant source light with its 50w. The lamp is elegant and sleek and it does have wrgb spectrum similar to twinstar's. I keep a healthy utricularia forming a carpet and red rotalas that do turn red when nitrogen is low.
This is hands down the best light Ive ever put on my planted tank. It is BRIGHT and has white, red, blue, and green LEDs providing a spectrum that not only looks great to the eye but also grows plants well.Solid aluminum build quality with heat fins and a quiet fan to keep the light cool and prolong its effective life. The power cord is clear and has a waterproof connector as well as a power switch. The light itself has a power button, a dimmer button (100%, 75%, 50%, 25%), and a timer button (6, 8, 10, 12 hours).I believe this light punches well above its price point in terms of overall quality and light output.
New Goods Come Every Month
Subscribe to our newsletter and be the first to receive the latest product information and deals!